M.Arana Full Length Albums


FOR IMMEDIATE RELEASE!
M.Arana Presents MASTERY: The Album featuring vocals by Brew Hunter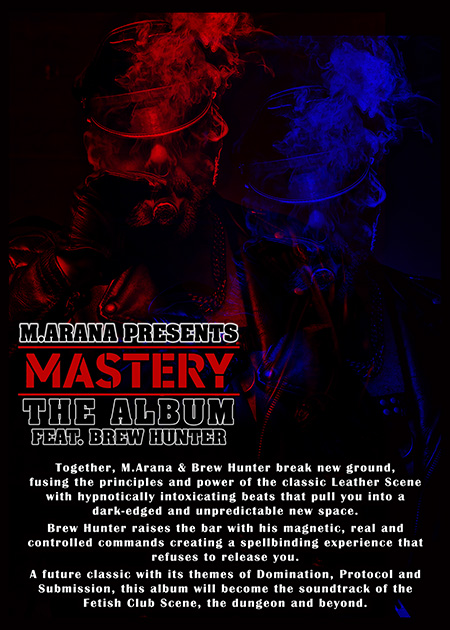 BREW HUNTER & MASTERY
Brew Hunter is an iconic Leather Master and SM Dom, and a passionate believer in the power and ability of the leather and fetish community to create an influential, robust and intoxicating fellowship, which has the ability to embrace all ages, strengths and experience.
Launched 5 years ago, at London's original premier leather club, The Backstreet, Brew Hunter's accolade-studded MASTERY night has defied fashion to become the definitive evening of  SEX, S/Moke & Submission.' MASTERY now welcomes guests from all over the world, all of whom relish this hard-edged, high-protocol event. Brew Hunter has single handedly kick-started a renaissance of the heady days and attitude of the classic fetish scene, earning a reputation as the undisputed King of the London leather scene.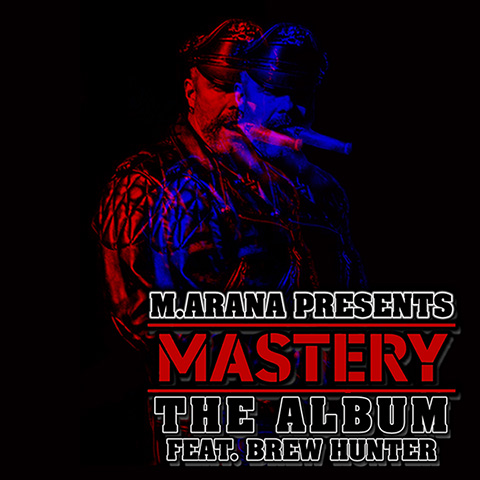 M.Arana - @PLAY Volume 4
The fourth installment of M.Arana's hit @PLAY series heightens intensity with its relentless walk through a guttural landscape of beat driven primal backroom energy.
Designed to set the mood, each @PLAY album takes you on a trip that only M.Arana can orchestrate.
Stack any of the interlocking beat mixed @PLAY volumes and let yourself go.

Kevin Aviance & M.Arana unleash "RAW"
What happens when nightclub legend Kevin Aviance meets tech house Phenom M.Arana in a dark alley?
RAW
RAW represents a new sound pairing Kevin Aviance's musings with DJ/Producer M.Arana's underworld.
Mesmerizing, evolving loops get you lost in a hard edged yet ethereal dream.
Kevin is raw, real and ever fierce with his sleek aggression. RAW is organic with simple construction in complex themes of love, domination, fetish and lust in the ever-changing underground.


An all new, original 16 track lyrical album cross-breeding bold dance and backroom beats with dark poetry in a nearly seventy minute seamless mix. Prosthetic Citizen echoes M.Arana's dubbed out live DJ sets, embarking on a journey into a cerebral atmosphere to lose yourself in. Escape in M.Arana's most personal album to date.

Continuing the successful @PLAY series, Volume 3 elevates sound as it continues the rich @Play journey through building a deep aural landscape for your scene.
Looping seamlessly for continuous play, @PLAY Volume 3 draws you deep into it's gritty, yet dreamlike, beat infused
hour long soundscape. Stack any of the interlocking beat mixed @PLAY volumes and let yourself go.
Influenced by the tech house vibe with which he leads his live backroom, after- hour, and leather dance floor DJ sets with, M.Arana's @PLAY Volume 3 presents a joining of masculine rhythmic sensuality with soulful progressive and tribal house edginess creating the intimate soundscapes he's widely known for.

Volume II evolves the first installment seamlessly as it builds tension and commits the listener to the next level with its driving aural landscape.
The 76 minute non-stop mix includes: "The Hunt," "Accelerant," "Forced Perspective," "Darkroom Exposure," "Off-Beat"... and a brand new revamp of his popular track "Hung."
M.Arana's @PLAY Volume II provides a unique listening experience - whether enjoyed as a dungeon soundtrack, forced headphone trip, cruise bar background, or a more casual listening experience.

Taking tribal and progressive house influences from his live after-hour & backroom DJ sets, M.Arana's "@PLAY" slows things down to present a marriage of sensual, muted rhythmic builds with the gritty edge he's known for to create this unique look at the intimate soundscape.

M.Arana's "@PLAY" provides a unique listening experience to lose yourself in, no matter if you reside in the darkness or are just an occasional visitor.

Hybrid between dark, progressive music reminiscent of the leather bar/dance and backroom soundscape for more intimate settings.
Through seamlessly weaving Residue's thirteen tracks, the album transcends genres while remaining engaging both as a full length, beat mixed dance album and a soundscape to invoke a primal nature while setting attention elsewhere.

Contact & Booking:

M.Arana & House of Arana Productions
info@djmarana.com